by Claudia Padron Cueto (El Toque)
HAVANA TIMES – Ana tattoos curved lines on her bare chest. She draws vines near the sutures of the body, then colors them. She puts petroleum jelly on it and blends it out. The needle vibrates wet with ink, while Ana scratches the hollow breast. After a mastectomy, the client decided to ask the artist to draw drawings around her scar.
Since 2013, Ana Lyem Laraes has been the main artist of the Zenit Tattoo studio, located in the city of Santa Fe on the outskirts of Havana. In the beginning, she had little more than a needle, some ink and the will of her friends to be her "pioneer" clients.
Today, his company has become a benchmark in the city's tattoo landscape. And she is the first and only woman here in Cuba to have her own studio. In a world here historically dominated by men, the tattoo artist has never felt underappreciated by her clients because she is a woman. Ultimately, talent has nothing to do with your gender and they know it. However, Ana says she noticed that some of her counterparts were showing prejudice towards her.
"I noticed that they looked down on me in several competitions, like I was an adventurous little girl who trod their territory. Everything changes when we start tattooing and they see my work, then they approach you as an equal. Ana won first prize at The caja negraone of these events, with one of his creations: La femme Mambise.
The Mambise woman is among the sketches she has decided to hang on the walls of her studio along with a few flags, dozens of cans of paint, antiques, photos and 15 feminist paintings "made by women to be tattooed on women".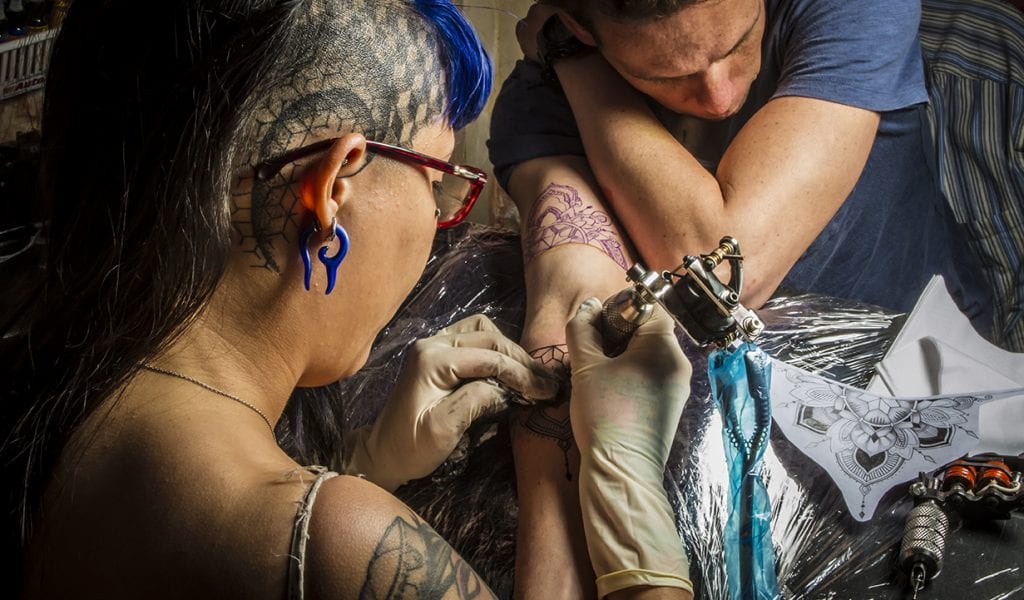 This year, the "GrlPwr" exhibition, held at the Zenit Tattoo studio, broke with the traditional and boring inertia of March 8 in Cuba, it moved away from government propaganda and cards with flowers to shout the absolute sovereignty of women over their own bodies.
Because, despite a small prejudice that still exists, women showing off their tattooed bodies are becoming more and more visible in the streets of Cuba. One could argue that a business of this type (with prices ranging from 10 CUC, the equivalent of USD, to a few hundred CUC) seems to be profitable with a growing clientele of mostly young Cubans.
"It's a profitable business for anyone who has the talent, a lot of willpower and can afford to cover the initial investment. Then maintaining business is difficult because none of the products we use are sold here in Cuba. You have to buy everything at a price much higher than what it is really worth.
Already used to dealing with shortages, shortages in the national market are not Ana's main fear, but she is worried about the legal vacuum in which this type of profession finds itself here in Cuba.
Body art as a lucrative activity is not included in Cuban legislation that regulates self-employment. At present, the Hermanos Saiz Association only registers the existence of artists under the age of 35 who meet the requirements of the organization and wish to be part of it.
This legal loophole leaves artists vulnerable as they can have their working materials seized at any time and fined like what happened in 2015. At the time, Ana picked up everything she could and closed her studio until things calmed down, but she has a bigger studio today. and risk much more.
Even if there are quite a few tattoo artists today (which was inconceivable a few years ago), few women definitely join this world and make it their only source of income.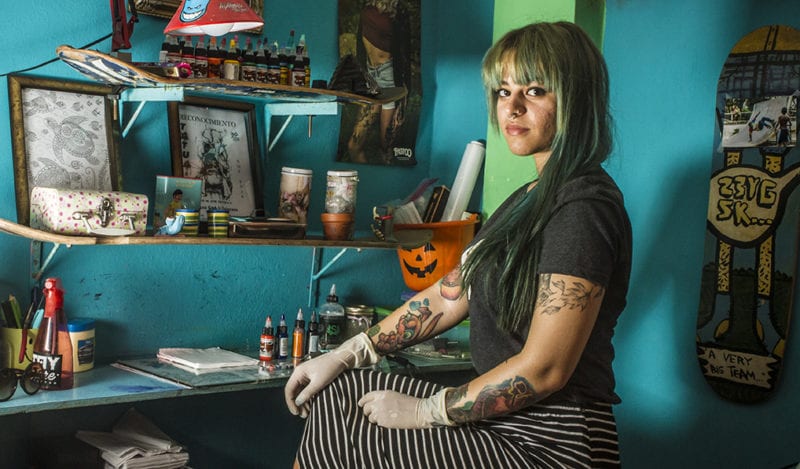 In a studio she shares with Che Alejandro Pando, a leader in Cuban tattoo art, Johana Cuello is another woman fighting for her own place in this world. Johana is 23 years old and has been tattooing other people at the Toy Store Tattoo studio for two years now.
"We are vulnerable because we have no legal status and we have no way to defend ourselves. We risk losing everything in the blink of an eye. On the other hand, it is also dangerous for customers. I've seen other tattoo artists who don't follow health and safety regulations and reuse needles or expose people to cross infection.
Ana got her first tattoo when she was 27: a few letters and a face on her left arm. Then came a Zenit camera, a woman's face, lined around the outline of her shaved head… She now has 20 tattoos, spread between her arms and legs, "and that counts", she says. They are all visible and striking, like the tattoos Johana chose for her own body.
Some prefer subtle designs, not these two. They do not hide their inked skin. Perhaps that is why they have heard prejudiced comments so many times. And that's because a lot of people in Cuba associate tattoos with the fringe stereotype of prostitution, jail, or drugs.
Ana is a 34-year-old woman, she graduated as an architect and is the owner of a thriving private business. Her designs can be found in the neighborhoods of Havana and Mexico, where she has also inked other people's skin. Ana and Johana also have facial piercings, green and blue hair, and yes: both women are very proud of their tattoos.